Vacancy
Student job developer
Are you a student developer looking for flexible work next to your studies? In a team that you will learn a lot from?
Fenêtre guarantees you fun work for various clients with a suitable salary of 20 euros per hour. A lot is also possible in terms of technique and nature of the work. Frontend, backend, database, mobile? We do it all.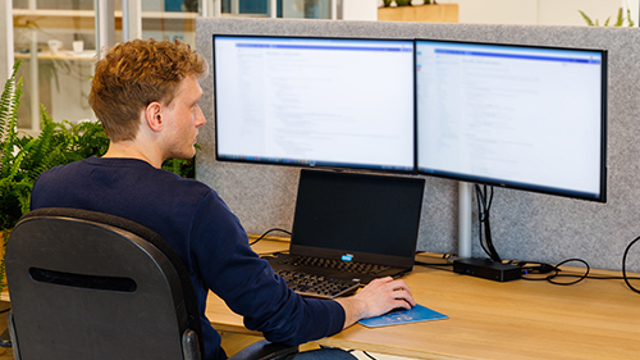 Want to get started working as a developer during your studies? We would like to briefly explain why we are a good match!
You can make your work as a developer at Fenêtre as broad as you want. Design? Taking your own work into production? Customer contact? Running your own project? The work is adapted to your ambition and experience level. Moreover, you work with experienced colleagues who are used to sharing knowledge and a management that supports you and allows you to grow.
We are looking for someone for long term. Someone with the ambition to develop themselves and grow. Do you recognize yourself in this? Apply via the form!
In het kort
None (less than 1 year)

Starter (1 to 2 years)
What we expect
You are enthusiastic, eager to learn, open, down-to-earth and love technology and people.
You are reasonably versed in server-side object-oriented programming and are familiar with Javascript, HTML and CSS.
Excellent verbal and written communication skills.
You are also familiar with relational databases such as SQL Server or MySQL.
Experience with C# .NET, Entity Framework, Vue.js / TypeScript, web services and Linq is an advantage.
What we offer
A well-equipped modern workplace
Monthly meet-ups and good support
Weekly Friday afternoon drinks
Diverse customers and nice colleagues
Monthly dinner with your colleagues
An annual city trip with everyone
Do you want to develop yourself further next to your studies and do you have the ambition to grow?
Come and work as a developer at Fenêtre, get started when you're still a student. Fenêtre is an organization with great clients and innovative products.
Testimonials

"There is never a dull moment at Fenêtre. Due to the diversity of my work, the contact with customers and various challenging projects, every day is different. I have enjoyed working here since my graduation internship."